A hectic schedule didn't stop Minister of Sport and Youth Affairs Darryl Smith from attending the Trinidad and Tobago Olympic Committee (TTOC) 2017 Olympic Day celebrations at Lord Harris Square, Port of Spain on Friday (June 23). In a brief address Minister Smith congratulated the TTOC on the decision to focus attention on inviting children to the Olympic day event.
NATIONAL ATHLETES from various sporting disciplines turned out to support the local Olympic Day celebrations at Lord Harris Square, Port of Spain.
Keron "Sunny Bling" Sealy - Master of Ceremonies - ensured a vibrant, interactive and entertaining experience notwithstanding the inclement weather.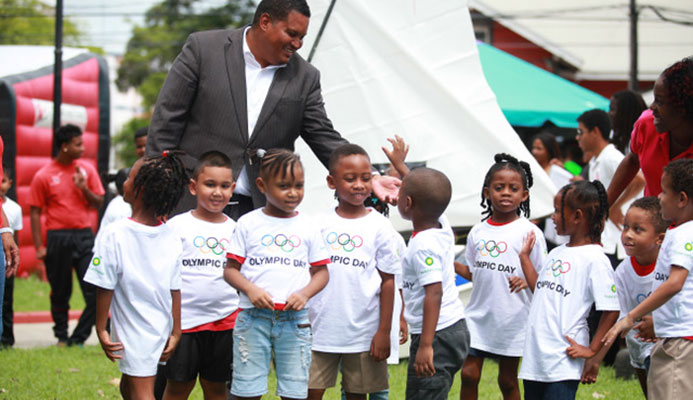 An exciting highlight at the event which started at 10am and ended at 2pm was the opportunity for the children and members of the public to see - some for the first time - Hasely Crawford's 1976 Olympic gold medal. Many pictures and selfies were taken with T&T's Olympic hero and his historic gold medal.
Children from several primary schools and kindergartens were in attendance where various national sporting organisations (including the National Association of Athletic Administrators (NAAA), Trinidad and Tobago Volleyball Federation (TT VF), Trinidad and Tobago Hockey Board (TT HB), Trinidad and Tobago Rugby Football Union (TTR FU) among others) set up booths, gave demonstrations and exhibited skills, drills and exercises to the young children.
The children hailed from Rosary Boys, St Rose's Girls, Belmont Boys RC, SERVOL, Gail Cabral, La Seiva RC and Movant Police Youth.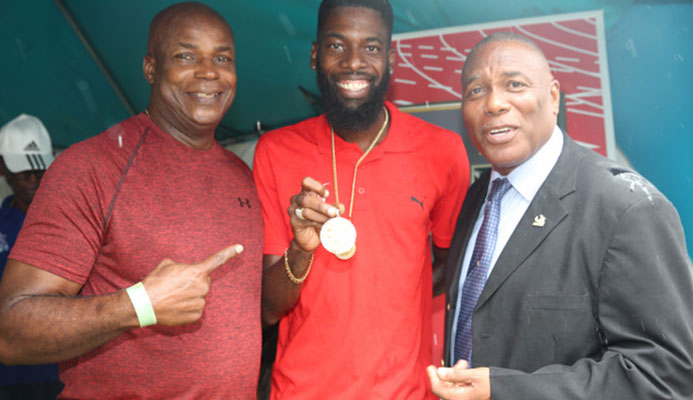 Among the high profile guests at the event were 1976 Olympic gold medallist Hasely Crawford, and Olympians Michelle-Lee Ahye, Keston Bledman, Renny Quow, Lalonde Gordon, Janeil Belille, Sparkle Mc Knight (athletics), sailor Andrew Lewis and boxer Nigel Paul.
Paralympic athletes Nyoshia Cain and Shanntol Ince were also in attendance as were top national athletes, boxer Michael Alexander and Daneil Williams.
Olympic Day is commemorated annually by over 200 National Olympic Committees worldwide. The aim is to educate children on the role of sport in society and the values espoused by the Olympic Movement.
In keeping with these objectives, the activities strive to encourage the nation's youth to Strive for Excellence, to celebrate Friendship and to demonstrate Respect.