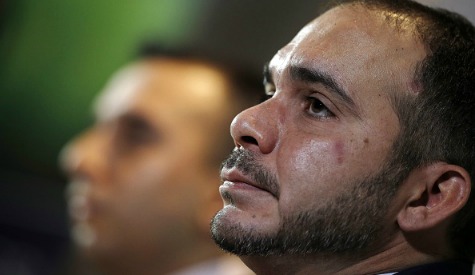 FIFA Presidential candidate Prince Ali Bin Al Hussein says the accusations that Sepp Blatter's legal adviser altered a key report into reform recommendation are "deeply worrying" and that the Michael Garcia report could also have been interfered with.

Prince Ali, who will stand against Blatter in the upcoming election alongside former Portugal international Luis Figo as well as head of the Royal Dutch Football Association Michael van Praag,claims recent developments provide another indictment of the way the world governing body is currently run.

"There does appear to be evidence of interference in the drafting of the so-called independent Pieth report by FIFA," the Jordanian FA President said.

"This is deeply worrying and suggests something is not right at the heart of FIFA governance.

"Media reports over the weekend are a reminder of why we need Michael Garcia's report into FIFA's World Cup bidding process to be published in full.

"Without publishing the Garcia report in full, FIFA faces the ongoing public suspicion that interference may also have occurred in that case."


The allegations surround a report which Blatter commissioned to Swiss professor Mark Pieth back in 2011 in order to repair some of the damage done by a miasma of corruption allegations during the Swiss' tenure as head of world football's governing body.

The report was supposed to put forward firm proposals of how FIFA can improve its image, but only a few of Pieth's ideas have come to fruition, with German magazine Der Spiegel claiming criticism of Blatter was removed by FIFA's director of legal affairs Marco Villiger.

The magazine is reportedly in possession of e-mails which purport to suggest that Villiger saw a 15-page draft of Pieth's report and then opted to make changes in order to reflect better on Blatter, who will bid to earn a fifth term in office in this year's election.

Der Spiegel allege the main changes came in reference to the ISL bribery scandal, where Brazil's former FIFA President Joao Havelange and other leading FIFA members were paid bribes in exchange for the award of World Cup marketing rights, with Blatter's role being questioned by Pieth.

Pieth wrote that Blatter may have been complicit in the scandal before Villiger returned the report two weeks later having made 37 notes and various other deletions.

Villiger was also at the centre of the Garcia report furore as he persuaded the FIFA Executive Committee not to publish the report into possible corruption involved in the 2018 and 2022 World Cup bid process, won by Russia and Qatar respectively, and one that Prince Ali has constantly campaigned to have published in its entirety.


A redacted version of the American's report is due to be released later this year.

The development has been heavily criticised by UEFA as the gap between football's two main governing bodies continues to widen.

"The latest revelations regarding the Pieth report show that FIFA's independent governance committee was anything but independent," UEFA President Michel Platini's spokesperson Pedro Pinto said.

"UEFA has always wondered why it was criticised by Mr Pieth and wrongly accused of blocking FIFA reforms.

"Now we understand why and where it all came from."

The news may be music to the ears of the rest of the Presidential candidates ahead of the election in Zurich on May 29 as they are all attempting to oust Blatter from a role he has held since 1998.