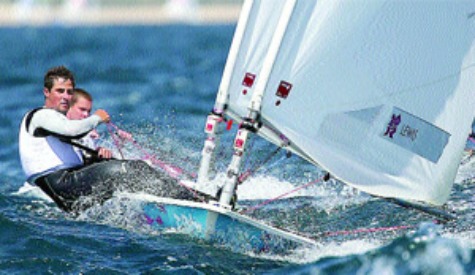 Andrew Lewis gave an improved showing in the fifth race of the Olympic Games men's Laser class event, in Dorset, England, yesterday.
However, the Trinidad and Tobago sailor missed out on a golden opportunity for significant upward movement on the overall standings when he failed to capitalise on a good start in race six, eventually finishing 47th in a field of 49. Instead, he gained just two places, moving from 44th to 42nd.
Lewis ended the day with a total of 242 points, but had his worst score—the 47 in yesterday's sixth race—deducted, for a net score of 195.
Lewis was 28th in race five, on the Weymouth Bay West course. He was actually 17th early on, but slipped to 29th, before earning a one-spot promotion following the disqualification of Greek sailor Vagelis Himonas.
And in race six, on the same course, Lewis again started well, but 12th spot turned into 17th, 22nd, 27th and then 31st. Had he remained 31st, Lewis would have jumped to 36th overall. However, his vessel capsized, the 22-year-old sailor losing valuable time and finishing 47th in the race.
Cypriot Pavlos Kontides was second and fourth in yesterday's races to claim the top spot from Australia's five-time world champion Tom Slingsby. Kontides has 12 net points, for a narrow one-point lead on Slingsby (13). Croatia's Tonci Stipanovic (19) is third.
Following the rest day, today, Laser class action resumes tomorrow with races seven and eight, on the Weymouth Nothe and Weymouth Harbour courses, respectively.
George Bovell opens his 50 metres freestyle medal bid at 5.11 this morning (T&T time), at the Aquatics Centre here in London, in the sixth of eight heats. The T&T swimmer has been drawn in lane three.
Of the eight men swimming in heat six, Bovell has the third fastest qualifying time—21.89 seconds. American Anthony Ervin is the fastest at 21.60, while Russia's Andrey Grechin is second best with a 21.82 swim.
Bovell is ninth fastest overall, and has a genuine shot at advancing to tomorrow's eight-man final. His first goal, though, is to secure a lane in the 2.32 p.m. (T&T time) semi-final round. The top 16 men in the heats will progress to the semis.
Of the 30 athletes representing T&T at the London Games, nine are women. All nine are on the track and field team. Four of them will see action tomorrow, at the Olympic Stadium.
Kelly-Ann Baptiste, Semoy Hackett and Michelle-Lee Ahye do battle in the 100m dash, and Ayanna Alexander competes in the triple jump qualifying competition.
Ahye, whose fastest time in the 100m is 11.19 seconds, told the Express she is targetting a new personal best and a top-three finish, here in London.
"From since I left the training camp (in Wales), I just blanked out everything. I said 'Michelle, I came here to compete'. I'm ready to be on that podium, for sure."
Ahye will run in the 4x100m as well. The sprint relay squad also includes Baptiste, Hackett, Kai Selvon, Reyare Thomas and Sparkle McKnight.
"Our expectation," Thomas told the Express, "is to go out there and at least win a medal. If it's gold, silver or bronze, once we're in the top three, that's what we're looking for."
McKnight was hoping to compete in the individual 400m, here in London. At the National Championships, she won the event in 52.44 seconds, missing out on the 52.35 "B" standard by nine-hundredths of a second.
"I'm disappointed about that, but I'm coming out here and looking at everybody performing. It's going to change my mentality, and hopefully at the next Olympics I would be there for sure representing in the 400 for the ladies."
Janeil Bellille flies the flag for T&T in the women's 400m hurdles. She will be in action on Sunday, in the opening round of the event.
"Basically, I'm trying to make it through the rounds. That's the most important thing. And once I'm able to get through the rounds and make it to the final, I could go all out.
"I'm just trying to keep focused," Bellille continued. "Around here, there are lots of distractions."
T&T will have two representatives in the men's 110m hurdles—national champion Wayne Davis II and Mikel Thomas. Round one is scheduled for next Tuesday, with the semis and final taking place on Wednesday.
At the 2008 Beijing Olympics, Thomas made it to the second round.
"I definitely want to exceed what we've done last time," Thomas told the Express. "I made it two rounds last time, and there's only three this time. I'm hoping and praying and putting in the work necessary to make the final. It's all about executing it.
"The atmosphere," the sprint hurdler continued, "is totally different, compared to Beijing. Not only because it's an English-speaking country and we can actually communicate more, but just the vibe and what London has done to put on these Games. They have done an excellent job. The feeling, the atmosphere is great."
By Kwame Laurence
Source: www.trinidadexpress.com