Friday July 24th, Toronto, Canada– Olympic Gold Medallist, and National Record Holder in the javelin Keshorn Walcott won Trinidad and Tobago's second gold medal at the Pan Am Games in the men's javelin competition. Walcott's second throw of 83.27 was enough to secure the top spot. This was an expected victory for Walcott who entered the competition ranked second in the world, having reset his own national record while setting a new meet record of 90.16 at the Diamond League Meeting Athletissima in Lausanne, Switzerland earlier this month.
Following his win, Walcott said, " I knew I was the favourite so I tried to come out and give the fans here a good show. I didn't go all out because the main focus for me is the world championships. I had some technique to work on and I believe I improved it during today's competition."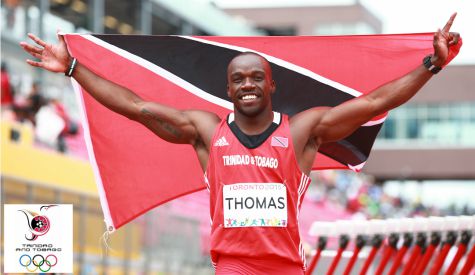 In the men's 100m hurdles, Mikel Thomas picked up the silver medal, setting a new national record of 13.17 in the process. Following the race, Thomas could hardly contain his joy saying, "I'm still trying to gather myself from it. It was all God because I didn't have enough strength." Thomas had to run the final twice following a recall in the first race in which he tumbled coming over the last hurdle. Speaking of the re run he said, "That re-run, I ran full out and I felt it. The thing about hurdles is, because you have ten obstacles in front of you, you really lock out. You're really focusing. People fault all the time. If someone stops running, I'm not supposed to react to that."
Trinidad and Tobago's medal total at this year's Pan Am Games now stands at six thanks to the efforts of Walcott, Thomas, Cedenio, Cleopatra Borel, Njisane Phillip and George Bovell. All the medallists will receive bonuses from the Trinidad and Tobago Olympic Committee's (TTOC) #10Golds24 Athlete Welfare and Preparation fund.
In the women's 200m final, Reyare Thomas finished seventh in a time of 23.32. In relay qualification, the quarter mile quartet of LaLonde Gordon, Renny Quow, Emmanuel Mayers and Jarrin Solomon ran a season's best of 3.01.58 in advancing to the final. The women's quartet of Janeil Belille, Romona Modeste, Alena Brooks and Sparkle McKnight also ran a season's best of 3.31.21 to advance to the finals.
In the 4x100 relay semi finals, the male quartet of Mikhel Thomas, Rondel Sorillo, Emmanuel Callendar and Dan-Neil Telesford finished first in semi final 2 in a time of 38.52 to advance to tomorrows final.  Following the race, Coach of the 4x100 relay team, former national sprinter and a Pan Am silver medallist in the relay, Niconnor Alexander said, "The guys went out there and executed everything we practiced. I could not have asked for a better race."
Callendar added, "Our intention was just to make it to the finals and have a safe pass of the baton as we are a relatively young team, so we're really satisfied with our performance."
The female quartet of Kamaria Durant, Kelly Ann Baptiste, Semoy Hackett and Reyare Thomas did not advance to the finals, following a failed baton exchange between Baptiste and Hackett. After the race Hackett said, "I probably went before time because I heard her (Baptiste) saying slow down, slow down, but we were comfortable heading into the race. We just need to practice more and build up our chemistry."
Callendar echoed these sentiments saying, "It's sad they didn't get the baton around the track because once they do they will be a force to be reckoned with."
Tomorrow Trinidad & Tobago will have the chance to equal or better its Pan Am Games record of 7 medals in the 4x100 and 4x400 relay finals. Emile Abraham will also compete in the cycling men's road race and the men's field hockey team face Cuba in the 7th -8th round match.