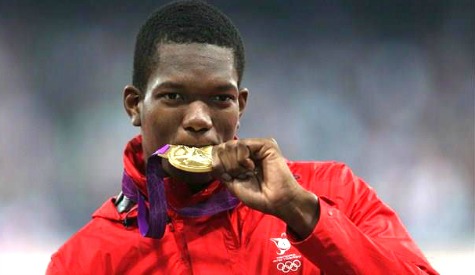 Keshorn Walcott's gold medal may have been the biggest surprise of the Olympic Games in London, England. Yesterday, Walcott shocked everyone at Olympic Stadium when his second throw of 84.58 metres topped the Men's Javelin event, less than a month after he became the world junior champion. He astonished himself also, saying, "I'm surprised I even made the final. I just went out there to relax and enjoy it and it worked out. "It means everything to me. This is what it's all about." Walcott, from Toco, pushed T&T's medal count to three before the men's 4x100m relay team of Richard Thompson, Keston Bledman, Emmanuel Callender and Marc Burns added a bronze medal to make it four—T&T's best medal haul at an Olympic Games.
The others came from Lalonde Gordon, who won bronze in the men's 400m on Monday, and the the men's 400m relay final. The local men finished fourth in the men's 4x100m relay, but were promoted after Canada, which was originally third, was disqualified for stepping out of lane. But yesterday clearly belonged to Walcott, who made it the second time in the history of the Olympics that T&T's anthem was played and its flag lifted above all others during the medal ceremony. The first was sprinter Hasely Crawford, who won gold in the Men's 100m final in the 1976 Montreal Games in Canada. Walcott gave T&T its first victory in an Olympic field event and also became only the second non-European athlete to take the crown in 100 years of the Olympic Games. "Honestly, I was just glad to make it into the final. I was just looking to do a personal best," said the soft-spoken Walcott.
He established the lead in the opening round with a throw of 83.51 metres, to break his own national record of 82.83, and increased it in the second round with 84.58 which proved enough to win on the night. The only other thrower who came close was Ukraine's Oleksandr Pyatnytsya, whose third effort, of 84.51, was some seven centimetres short. Finland's Antti Ruuskanen was third with a throw of 84.12. "My heart was beating really fast going into the last throw. I knew these guys were experienced. But I'm so happy now." Defending Olympic champion Andreas Thorkildsen from Norway and Czech Republic's Vitezslav Vesely, who threw 88.34 metres in qualifying, were the favourites coming into the final. Thorkildsen had to settle for sixth place with his attempt of 82.63. "I just trained my hardest and tried to enjoy every time I come out," Walcott said. He had only great things to say of his mother, Beverly, and his coach, Ishmael Mastrafa Lopez.  "I want to thank the entire country. Firstly my mom, she believed in me throughout from since I started. My coach had been guiding me. "I just want to say thanks again to the entire country for supporting me and believing in me," said the golden Walcott.
By Rachael Thompson-King
Source: www.guardian.co.tt