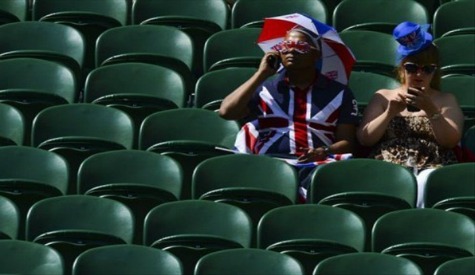 London's Olympic organisers launched an investigation into empty seats on the first day of the Games yesterday.
On a school holiday and after months of public complaints over the inability of thousands in Britain to buy tickets, Culture Secretary Jeremy Hunt, the minister responsible for the Olympics, said he was disappointed by the empty seats and that the London Organising Committee of the Olympic Games (LOCOG) were looking into it.
"LOCOG are doing a full investigation into what happened," Hunt told publicly-funded broadcaster BBC one day after a widely praised opening ceremony starring Queen Elizabeth, Paul McCartney and Rowan Atkinson.
Television coverage of events on Saturday showed and visitors to venues found scores of empty seats in the early part of the day at the aquatics centre, in the basketball arena and later on at Wimbledon for the tennis. There was also plenty of space to stretch out in the Olympic Park.
"We think it was accredited seats that belong to sponsors, but if they are not going to turn up, we want those tickets to be available for members of the public, because that creates the best atmosphere. So we are looking at this very urgently at the moment," Hunt said.
Sports Minister Hugh Robertson said he was surprised that the events were not full.
LOCOG became used to putting up the "sold out" sign within minutes of each tranche of tickets going on sale to the public.
On Saturday some ticket box offices at venues in the park still had queues of people seeking to buy tickets for selected sports.
"I've been trying and trying every day to get (soccer) tickets for Argentina," 34-year-old Argentinian electrician Lucas Lopez told Reuters on a stroll through the park.
"Where there are empty seats, we will look at who should have been sitting in the seats, and why they did not attend. Early indications are that the empty seats are in accredited seating areas, but this is day one, and our end of day review will provide a fuller picture," LOCOG said in a statement late on Saturday.
LOCOG declined to provide a figure for the number of people in the park on Saturday or how many tickets had been sold but said that 11 million people would attend the Games.
www.trinidadexpress.com