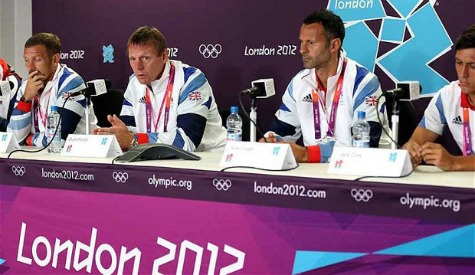 Dame Kelly Holmes gave Great Britain's Olympic football squad an "inspirational" pep talk as they arrived in the athletes' village on Monday.

The double Olympic gold medallist told the squad to embrace the spirit of the Games and not to cut themselves off from it in a meeting Craig Bellamy described as "just incredible".

Both the men's and women's teams met Holmes and Sir Clive Woodward, Team GB's deputy chef de mission, before spending their first evening in the village on Monday night.

Fellow Welshman Ryan Giggs took her message to heart, saying he hoped a British squad could be fielded regularly for the Games, despite hostility from national football associations.

Bellamy said meeting Holmes had been a "privilege".

"She gave us a chat as to what to expect and about looking forward to these Olympics," he said. "It has been immense. Meeting the likes of Kelly Holmes is just incredible – this week has been amazing not just for me but I'm sure for everyone else as well."

The Liverpool forward said that Holmes told the squad the Games experience would be very different to their normally sheltered lifestyle, cut off from distractions before matches.

"There is a lot more going on," he said. "You have to be a lot more patient – you eat with every single other athlete but it all adds to the experience.

"Her knowledge and her experience of being involved in the Olympics is just basically to enjoy it, embrace that. Go and speak to other athletes, go and introduce yourself, ask how they are and just be part of this Great Britain experience. This is something to cherish for the rest of my life."

He said he was most looking forward to chatting with Usain Bolt while Giggs hoped to grab five minutes with Roger Federer.

Giggs's desire to see a British team compete in future Games is likely to raise eyebrows in Wales, where the Welsh FA reacted badly to the British Olympic Association trumpeting its "historic agreement" to let players of all four nationalities compete.

But the Manchester United midfielder, one of five Welshmen picked by Stuart Pearce, said he had heard "nothing but positive feedback" from everyone apart from the associations.

"I just hope that fellow British footballers can experience what I've experienced so far this week and hopefully experience in the next few weeks," he said. "I hope it is not a one-off. I hope in future Olympics there will be more Great Britain teams."

Speaking about his and Bellamy's decision to take part, he added: "Obviously we are both Welsh and proud of it but for me personally I just couldn't turn down the chance of playing in the biggest sporting event in the world."

Daniel Sturridge, who has been suffering from viral meningitis, rejoined the squad yesterday after their week training in Spain, but doubts remain over his fitness.

Pearce said he would assess the Chelsea forward this week before making a final decision by the weekend to allow a potential new squad member up to a week to bed in before the first group game against Senegal on 26 July.

"There was certainly doubt because of the illness that he has had," he said. "Obviously in 10, 12 days' time we go into our first group match so I've got to be 100 per cent sure in my own mind that Daniel is fit enough and is ready to go on that first day or certainly very soon after it." Pearce played down suggestions he was disappointed with the squad's performance in their match in Spain on Sunday night, when they lost 1-0 to Mexico.

All 17 players took part in the friendly in Marbella, which Team GB dominated for large periods. But they were defeated regardless thanks to a first-half strike from Marco Fabian.

Pearce insisted that he was "buoyed by the performance" and that the team would put in a better performance in their friendly against Brazil in Middlesbrough on Friday.

"I think we'll get stronger as the tournament goes on, physically and gelling together as a team," he said. "I also see probably a step up in performance from the Mexico game to the Brazilian game. But the important thing for me is to make sure they are all fit and raring to go for the Senegal game. We have had one game together – we are delighted with that performance and now we will hit the ground running."

Pearce said he would let players decide individually whether to attend the opening ceremony, the night after their opener against Senegal and shortly before the remaining group matches against the UAE and Uruguay.
-Tom Rowley
www.telegraph.co.uk